Some of the other things which interest me are music (I have a semi-extensive CD collection of both Rock and Classical music, and I sometimes putz around on my Yamaha PSR2200 keyboard), movies (I've just recently discovered the wonderful world of DVDs), book reading (mainly hardcore scifi with a smattering of fantasy and historical novels), and putzing around with my digital camers (I just picked up a Casio QV3000EX-Plus at uBid.com).
Some of my favorite rock bands are the Beatles, Pink Floyd, They Might Be Giants, Badfinger, the Easybeats, REM, Queen, the Moody Blues, and Led Zeppelin.
My taste in classical music varies, but I know I like almost anything by J.S. Bach (particularly such works as the Art of Fugue, the Brandenburg Concertos, and the version of Toccata and Fugue in F Major played by E. Power Biggs on the four antiphonal organs at the Cathedral at Freiburg), most things Mozart or Beethoven (particularly piano sonatas), Rossini, Scarlatti, and Schubert's piano stuff.
Favorite books include the Lord of the Rings by J.R.R. Tolkien and Lord of Light by Roger Zelazny, as well as things like the Foundation Series, Watership Down, Dune (first book), and the Earthsea Trilogy. Favorite sf short stories include Flowers for Algernon, Arena, Surface Tension, and the Cold Equations.
The last thing I'll mention here is my little Vectrex arcade game, a really cool piece of hardware sold in the early 1980's by GCE that uses cartridges and a real vector display (like an oscilloscope). VERY cool! :-) Below is a picture of my little Vectrex setup. If you'd like to learn more about the Vectrex, there are a few interesting sites on the web like Spike's Big Vectrex Page and Brett's Vectrex Preserve, and you can get a DOS-based Vectrex emulator for the PC here.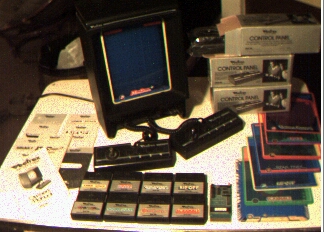 ---








Most recent revision: August 26, 2003
Copyright © 1996-2003 by Richard C. Steiner